The next time you've got some free time on your hands, try making one of these kitchen staples from scratch! You'll save money and have fun while learning a new technique.
This is one of my favorite kitchen staples to make from scratch. And it really doesn't take too much time! Got leftover milk close to it's expiration date? Don't pour it down the drain! Make the creamiest yogurt you've ever tasted right from your own kitchen. Homemade yogurt tastes PHENOMENAL. I love store-bought Greek yogurt, and this is even better! It's so creamy and mild-flavored. And, I love how you can control the thickness by how much powdered milk you add.
Prep time is about 30 minutes, and then it sits overnight. Keeps for up to two weeks.
Bagels via Real Mom Nutrition
Sally's method is very similar to the one I've tried before, except I used the dough function on my bread maker. After the dough is finished, then I divide it into the bagel rounds and finish by boiling and baking. Homemade bagels are ten times better than store-bought, and they're chewier and have more flavor. Plus, you save money and can add whatever toppings you like!
Made with just four ingredients! Lindsay was tired of seeing the mile-long list of ingredients on the store-bought tortilla package and ventured out to make her own. I hear ya sister. I get frustrated too by the ingredient list that's way too long. If you have some time, make a bunch of these and freeze flat in between sheets of wax paper! Pull out however many you need for a meal and pop them in the microwave.
This is a kitchen staple I make ALL the time. Homemade pesto takes 10 minutes, tops. I like using walnuts instead of pine nuts. Trust me, you can't tell the difference. Pine nuts are 2-3 times more expensive than walnuts, which is why we made the switch! Most of the ingredients should be things you already have on hand — parmesan, garlic, olive oil, walnuts. In the Spring and Summer I usually have a basil plant outside which makes this much cheaper.
This meal is something that can VERY easily be prepped over the weekend, and really, it's a necessity that you prep it over the weekend. No one wants to spend each morning making sausage patties! You can sub in beef if that's your thing, or use 93/7 turkey for a darker colored patty (this is 99% lean). These homemade turkey breakfast sausages are delicious warmed up in the morning alongside eggs and roasted veggies.
Fresh homemade pasta has a whole different — better — taste that you can't get from dried pasta. Making noodles by hand isn't too hard, but you definitely need a pasta maker. Spend a couple hours on the weekend making fresh pasta! You can freeze it afterwards or hang it on a pasta drying rack to re-hydrate later.
Simply a great-tasting and easy-to-make whole wheat bread. Making homemade bread is even easier if you invest in a bread machine! I love this recipe because it includes the addition of honey, which adds a slight sweetness.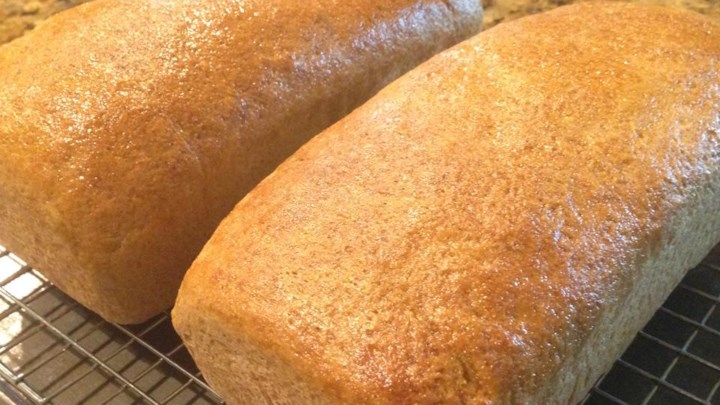 What are your favorite foods to make from scratch at home? What do you usually buy pre-made vs make from scratch? Leave me a note, I'd love to hear!